ShipIndex.org Guide to Merchant Ships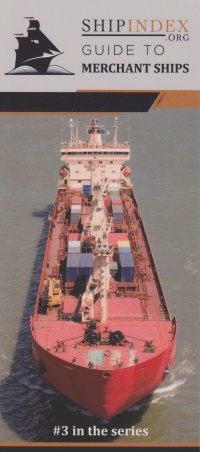 $7.95
When you see a merchant ship on the water, you most likely think of their sheer size first. The second second question to come to mind is often "I wonder what they are hauling?" This 12-panel fold-out guide answers this question by detailing the shape and function of the ship. From dry goods to fish to people on luxury cruises, these behemoths are described by what they contain and how they are used.

Eight of the twelve panels are dedicated to detailing the types merchant ships in easy to understand, detailed language. Color photo examples are included to help the reader further. Like the other guides, a quick one-panel silhouette helps the reader very quickly identify what the cargo ship they are looking at may be carrying. In addition, a reader can learn about cargo containers and how docks are able to handle these gigantic vessels.
This guide is available individually or as part of a three guide set. We invite you purchase this guide above, or support your local maritime museums and purchase this guide and our other guides in their retail shop. We encourage maritime museums to offer our guides for the purpose of educating your patrons on vessels of all types. Contact guides@shipindex.org for wholesale pricing on all of our guides.