ShipIndex.org Guide to Tall Ships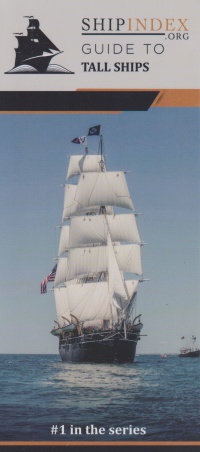 $7.95
The ShipIndex.org Guide to Tall Ships is a 12-panel fold-out overview of history, vocabulary and vessel types, focusing on sailing ships from yesterday and today. These vessels are defined not by their function, but by their use of the most important invention in pre-modern maritime history, the sail.

After an explanation of how sails work, the guide divides ship types by the shape, placement and number of sails. Each section describes a vessel type with a quick explanation of its unique features, with images of iconic ships representing that type. Like the other guides, one panel is dedicated to quickly identifying the type of tall ship by its silhouette. In addition, one panel shares a glossary of terms used with these vessels and another identifies many significant maritime history museums across the world.
This guide is a reference and a lesson for both maritime novices and enthusiasts alike. We invite you purchase this guide above, or support your local maritime museums and purchase this guide and our other guides in their retail shop. We encourage maritime museums to offer our guides for the purpose of educating your patrons on vessels of all types. Contact guides@shipindex.org for wholesale pricing on all of our guides.